Elegant Simplicity - Anhedonia.2004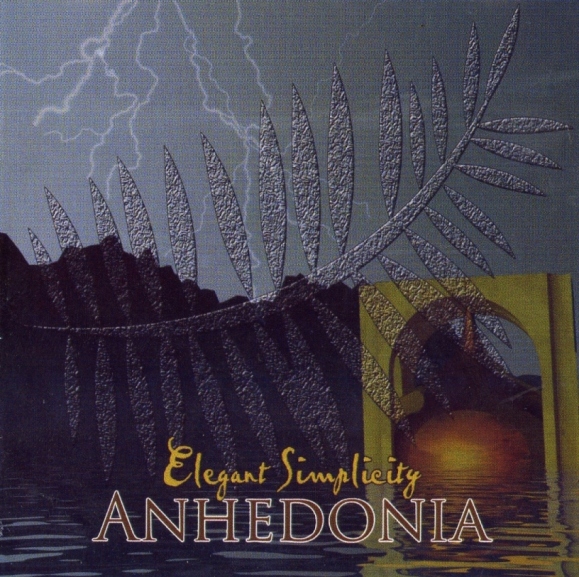 Genre
: prog rock
Source
: my CD collection (CD-R копия)
Format
: Lossless (FLAC+CUE+LOG+COVER)
Tracklist
:
Anhedonia - parts I to VII:
1. The Gateway
2. The Other Side
3. When Hearts Meet
4. When Sparks Fly
5. Desperate Hours Alone
6. Lost
7. It Will Always Be You
Prolusion. The UK's ELEGANT SIMPLICITY, led by the permanent leader and author of all compositions, multi-instrumentalist Steven McCabe, has existed since the beginning of the nineties and, along with Porcupine Tree, to name just a few, is one of the most fruitful contemporary progressive outfits. I have lost count of their output. But since the band releases one album per year on average, there should be about 15 full-length albums in their discography. Officially, "Anhedonia" is the follow-up to the critically acclaimed >"Architect of Light", though there is another album, which was released just before "Anhedonia". This is "Aquatorium", consisting almost exclusively of unknown songs by the band. I have heard it, and I wonder why it was issued as a limited edition "fan club" CD, and not officially. I'd be happy to review it, but I need Steven's permission on the matter - so perhaps the next update.

Synopsis. "Anhedonia" is a concept work or, rather, a semi-concept, since there are only instrumental compositions. Each of the seven tracks has its title, but as it is stated in the CD booklet, all of them, at the same time, are parts of a piece, which has given a title to the album. The duration of four of them exceeds 9 minutes, and the entire CD is 67-minutes in length. However, this factor does not exert influence upon the quality of any of the tracks included, which, by the way, is rather typical for the band's creation, which, in its turn, occurs rarely. In other words, there is a large diversity of themes and arrangements for the entire album to have all the qualities, which the genre's high quality works possess. While Steven's distinctive style of songwriting is still immediately recognizable, the music is more dramatic than ever before and, to my great surprise and pleasure, is often abundant in the arrangements related to serious Classical music. The Gateway and The Other Side (1 & 2), and especially the 19-minute epic Lost and It Will Always Be You (6 & 7), are rich in the parts sounding not unlike those by a small chamber ensemble, which includes a classic violin quartet and a couple of woodwind, oboe and flute, players. With the exception of the epic, which must be described more in detail, each of these correspond to the widespread conception of Classic Symphonic Progressive, but is also notable for distinct elements of Classical music. When Sparks Fly and Desperate Hours Alone (4 & 5) also contain some Classical music-related textures, but here, they are presented by passages of acoustic guitar and those of piano, going separately and being interwoven in the massive arrangements as well. The music is classically diverse and intriguing, still striking a unique balance between complexity and a melodic beauty. However, the arrangements are mostly ever changing with lots of passages of the Mellotron serving a dramatic background palette for soloing battles. The lead guitar and the Hammond are having a debate when the bass comes boldly in, whose fine strokes and thunderous lines only add up more colors into the music. I expressed my delight about Steven's capabilities as a multi-instrumentalist more than once, but I felt I had to repeat that again because the man's mastery in this field still continues growing. As for the drummer, as always, Christopher Knight persistently knows for sure when and where to single out a note or produce a bombardment upon what's going on there. Romanticism and melodiousness, so typical for the band, are still available, too, but only in places. The shortest track When Hearts Meet (3) is the only representative of a melodic Symphonic Art-Rock on the album, though even here elegant complexity dominates over elegant simplicity. The epic Lost is just filled with the spirit of Classical music. To be precise, here we have a pure Classical academic music in the first half of the composition and being blended with Classic Symphonic Art-Rock in its second half. Violins play very diverse passages that, however, are always full of dramatics. Joining a violin quartet, oboe brings even more sorrow, so the mood sometimes changes to anxiety. This is a soulful and very beautiful music, which, at the same time, has a great depth and profoundness. By the way, as far as I remember, this is the band's only album where can be heard the voice of Steven. The CD finishes with him singing one brief phrase "take me home".

Conclusion. Along with the previous two releases, "Palindrome" and "Architect of Light", "Anhedonia" is definitely one of the most compelling albums by Elegant Simplicity, though the introduction of such novelties as classically influenced arrangements makes it probably their best effort to date. Heartily recommended, without any reservations.(

www.progressor.net)
Band
:
Steven McCabe - guitars & bass; keyboards; flute
Christopher Knight - drums & percussion
Приятного прослушивания
Спасибо! Нечто новое для меня. Буду знакомится.

tower




Сообщения

: 182


Дата регистрации

: 2009-12-21



Elegant Simplicity - Moments Of Clarity.1999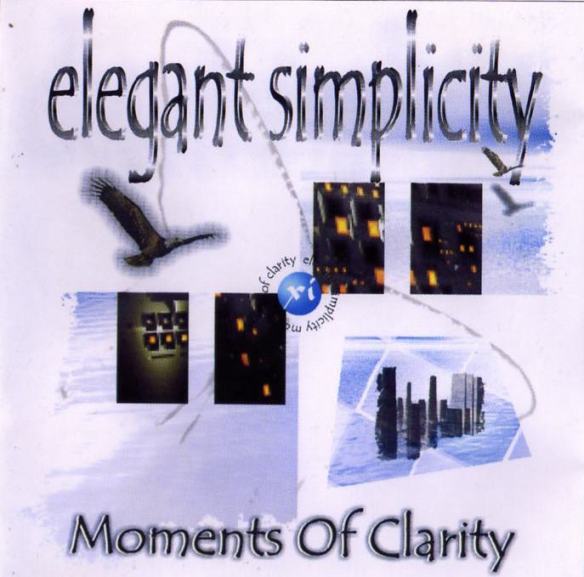 Genre
: prog rock
Source
: my CD collection (CD-R копия)
Format
: Lossless (FLAC+CUE+LOG+COVER)
Tracklist
:
01. Moments of clarity
02. A life alone
03. A cradle of stars
04. Afraid to wake
05. Out of reach
06. Love, loss & desire
07. Nature and man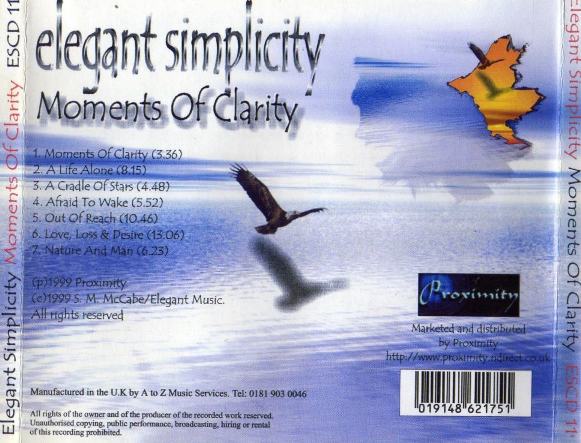 Band
:
- Steve McCabe / guitars, keyboards
- Christopher Knight / drums
- Ken Senior / bass, acoustic guitar, vocals
Приятного прослушивания
Спасибо! Первый весьма понравился, с благодарностью забираю и этот.

tower




Сообщения

: 182


Дата регистрации

: 2009-12-21




---
Права доступа к этому форуму:
Вы
не можете
отвечать на сообщения